Tuburan Matron Queen 2012
Last Counting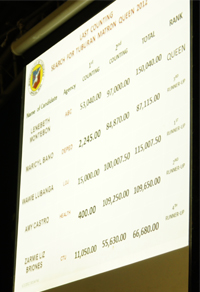 The Search for Tuburan Matron Queen is a long time tradition spearheaded by the Local Government Unit of Tuburan. In the present administration, with the lovely wife of the Municipal Mayor, Madam Teresita Catalina Bartolome-Diamante at the helm, the search was conducted with much enthusiasm and anticipation.
There were five participating agencies namely; Cebu Technological University (CTU), Department of Education (DepEd), Health, Local Government Unit (LGU), and Association of Barangay Captains (ABC). Each group selected its own candidate and supported their choice who represented for the group.
The search was based on the total amount of money put up by each candidate. Consequently, the candidate who was able to raise the highest amount got the title.
Presented below is the Royal Court with the Reigning Matron Queen 2012 and her DUCHESSES.
Mrs. Zarmie Lis R. Briones (CTU) – Fourth Runner Up
Mrs. Maricel Bano (DepEd) – Third Runner Up
Mrs. Amie Castro (Health) – Second Runner Up
Mrs. Wawie Lubanga (LGU) – First Runner Up
Mrs. Lenebeth Montebon (ABC) – Tuburan Matron Queen 2012