Geography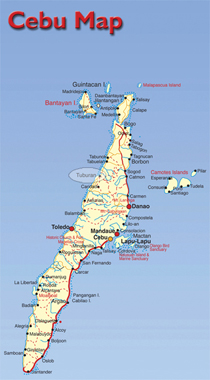 The Municipality of Tuburan is geographically located at latitude 123 degrees 52 minutes and longitude of 10 degrees 52 minutes.
It is bounded on the north by the Municipality of Tabuelan, on the south by the Municipality of Asturias, on the east by the municipalities of Carmen, Catmon, Sugod and City of Danao and on the west by Tañon Strait. Across the Tañon Strait, westward is the Municipality of Escalante, Negros Occidental, which is about an hour travel by a ferry barge thru the Municipal wharf via the Tañon Strait to Escalante.
The Municipality is located in the northwestern coast of Cebu Island. It is 104 kilometers from the City of Cebu via Lugo, Borbon route and 116 kilometers away via the Toledo City, Balamban route and approximately 78 kilometers away by the Trans-central Highway. It is divided into fifty-four (54) barangays, eight (8) of which are Poblacion barangay districts and the rest rural area barangays and approximately has a total land area of more or less 29,316 hectares.


Location
The Municipality of Tuburan is situated in the Northwestern Coast of Cebu Province, with Geographical coordinates of 123 49'34" East and 10 43'04" North
Boundaries
North – Tabuelan
East – Sogod, Catmon, Carmen, Danao City
West – Tañon Strait
South – Asturias
Topography and Scope
7.45% nearly rolling
39.30% nearly rolling to rolling
53.24% rolling to highly rolling
The terrain of Tuburan as described by the Tuburan agriculture Profile 1996 is level to nearly rolling (7.45%), nearly rolling to rolling (39.30%) and rolling to highly rolling to mountainous (53.24%). It has an elevation range of 0 meters to 600 meters above sea level. Level lands are almost found in areas bordering the shoreline of Barangays Poblacion, Carmelo, Cogon, Mangga, Putat and in some inland portions of barangays Caridad and Maghan-ay.
It is not within nor proximate to a protected area. Neither it is a former logging community because the timbers and logs, have disappeared for a long time except the very rocky and non-cultivable areas along the river system where an insignificant area of timber stand can still be observed.
The coastal portion of the municipality being a part of Tañon Strait, is under the jurisdiction of DENR through the Tañon Strait Commission which is a proclaimed Marine Reserved.
The Municipality's dominant slope range from 18-30%, followed by 30-50% and 50% above.This kinds of slopes could be located in far-flung barangays, i.e.,Bulwang, Siotes, Sandayong, Montealegre, Tumugpa, Kaurasan, Kan-An, Gaang, Maghan-Ay, Bangkito, Mag-Atubang, Kalangahan, and some portions of Kampoot, Macupa, Caridad and Putat.
Climate
Third type climate in the Philippines with not very pronounced maximum period of rainfall.
The Municipality of Tuburan falls under the third type of climate in the Philippines characterized by not very pronounced maximum period of rainfall and with a short dry season from March to June.
The highest recorded temperature usually happens in the month of May with 36.4 (oC) while the lowest recorded temperature occurs in the month of January with 19.2 (oC).
From 1973 to 1999, 28 typhoons (110 kilometers per hour wind) occurred; 13 storms passed with 65 to 109 km/hr. wind and 14 depressions passed with winds not more than 64 km/hr.
The greatest average rainfall usually happens within the month of July with 186.9 millimeters reading and the lowest average rainfall is recorded in the month of April with 41.9 millimeters.
The strongest typhoon that hit the area since 1948 are Amy (240 kph) on December 10, 1951, Puring (205 kph) on November 13, 1990, Nitang (176 kph) on September 2, 1984, Ruping (120 kph) on December 26, 1993 and Bising (120 kph) on April 14, 1994.
Season
Dry- March to June
Wet / Rainy: July to February
Total Land Area: 29,316 Hectares
No. of Barangays: 54 Brgys. 8 of which are Poblacion Brgy. Districts.
var _gaq = _gaq || [];
_gaq.push(['_setAccount', 'UA-32609735-1']);
_gaq.push(['_trackPageview']);
(function() {
var ga = document.createElement('script'); ga.type = 'text/javascript'; ga.async = true;
ga.src = ('https:' == document.location.protocol ? 'https://ssl' : 'http://www') + '.google-analytics.com/ga.js';
var s = document.getElementsByTagName('script')[0]; s.parentNode.insertBefore(ga, s);
})();